Addressing Labor Market Inequalities
---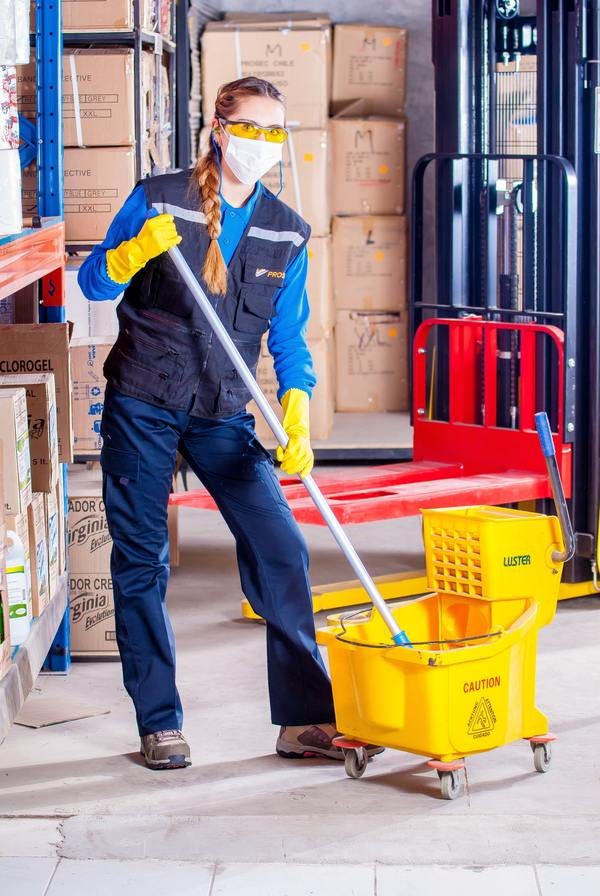 Addressing Labor Market Inequalities
The Internet and the thousands of apps that have been created that allow remote work have, in conjunction with the Coronavirus, polarized the labor market.
Yet thousands of people have no choice but to go to work because of the need to be physically present. Waiters and waitresses, cleaners, cooks, drivers, warehouse workers, gardeners, retail associates, health care aides, hospital administrators and clerks, to name just a few, receive low wages and many have been laid off due to this virus or work in hazardous places. They have no safety net and no health care. Many do not have any access the Internet and struggle to even apply for unemployment. Meanwhile those able to work from home, often because they have higher education and better skills, are still getting a paycheck and are better protected from getting the Coronavirus.
According to recent research (see link below) about 37% of all jobs can be done from home. Here is the U.S. those jobs make about 46% of total wages. These are all the jobs that could plausibly be done from home and includes professions such as as teachers, many doctors, radiologists and other occupations that we usually do not think of as working from home.
As a futurist and an observer of our current situation in the United States it is clear that several things should happen to bring greater equality and fairness to the labor market. The widening disparity has been with us for a long time, but the advent of the Coronavirus has shown us how unfair and divisive our current employment practices are. While it is doubtful that even a few of the ides below will actually happen, it is worth thinking about how to reduce the disparity in job security and income even in times when we do not have a pandemic.
This pandemic and others to come means we need to rethink our economic system and build in more safeguards, protection , and fairness. To not address this imbalance will ultimately lead to civil unrest and political chaos.
These are nine ideas on what we might consider doing.
#1. Basic Income. First of all we should consider a guaranteed basic income. Several countries have experimented with this idea with mixed success. See the article below for more information. The results of several experiments have shown that it does not increase idleness, but does improve mental health, strengthens families, and ensures basic nutrition. In lieu of a basic income, the minimum hourly wages needs to be raised to a life-sustaining level.
#2. Development. We will need to accelerate skill development by offering training to anyone who wants it regardless of their ability to pay. Education up to a bachelor's degree or for a vocational skill equivalent should be paid for by public funds. The reason that high schools are tax supported was to develop an educated workforce for the industrial era. We need to expand that to meet the needs of the service era. Undereducated people cannot contribute to the economy and because they have very limited resources cannot afford to get the training they need. With the rise in remote learning, higher education could be offered for a relatively low cost.
#3. Automation. The adoption and use of automation and robotics will continue to increase whether we want it or not. More and more people will be working alongside robots and relying on automated assistants to help with all sorts of work and will need better or different skills than they currently have. Therefore we need to accelerate the education of lower paid workers to help then move into better paying and more skilled jobs.
#4. Internet. To enable all of this, high speed Internet should be a public utility readily available for free or at low cost to everyone. No one should have to limit their education or access to information because of lack of good Internet access.
#5. Hire for Capability. Recruiters and hiring managers should focus on hiring for general capability, motivation and willingness to learn. Traditional measures of employability such as years of experiences and education should apply only to specific high-level jobs. Most people can be trained to a sufficient level to be productive in a short time and can then increase their skill over time.
#6. Internal Mobility. Internal organizational training and development needs to be increased significantly and much of it should be self-paced and virtual. This should be supplemented with mentors or coaches. For smaller organizations, consortiums of companies can sponsor training or they can use community colleges to develop and provide the needed training.
#7. HR Policy. Employment policies need to change to encourage people to work in whatever capacity fits their lifestyle and family needs. For some it may be flexible working hours, for others periods of employment interspersed with time off. Pay needs to align with output, not time spent. We will need new policies for safety and health as well as new ways to organize office space.
#8. Health Care. And finally, universal health insurance is a necessity if any of this is going to work. A remote, flexible workforce cannot be tied to one employer for what is a basic need.
#9. Child Care. A subsidy or other financial support must be given to working mothers and single parents who cannot afford childcare.
Human resource professionals, recruiters, educators and other infuencers must lead the way by proposing changes and advocating for greater fairness. Perhaps the greatest lesson to come from this pandemic is that we must reduce the inequality or face political and economic turmoil on a level not seen before.
———————————————–
Becker-Friedman Institute working paper. Interesting research.
UBI is having a moment. Which countries have run basic income trials — and how did they affect employment, health, and happiness?
PwC's survey across 24 territories reveals current sentiment about the impact of COVID-19 (coronavirus) among 871 CFOs, and how they plan to respond.
4 Takeaways from Weekly Learning & Development Action Calls: COVID-19 Business Response 4/30/2020 This week's Learning and Development action call hosted two special guests: Sarah Gretczko, Sen…
About This Newsletter
Hand curated articles, videos, podcasts, and other media on the future of work, talent, recruitment, and learning. If you find this useful, please share on Twitter. You can always reach me at kwheeler@futureoftalent.org.
Follow me on Twitter @kwheeler. If you like this, you might like to read my other articles and visit www.futureoftalent.org for more ideas and white papers.
Contact me at kwheeler@futureoftalent.org if you'd like to inquire about having me speak at an event or to your team.
To subscribe, send your friends this link: http://newsletters.futureoftalent.org/
If you don't want these updates anymore, please unsubscribe here.