Future of Talent Institute Weekly - Issue #23
---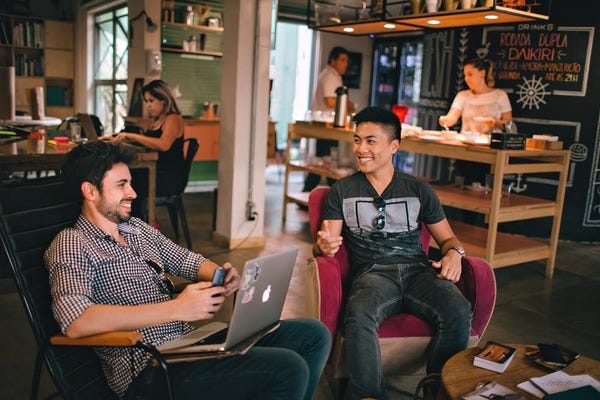 Being a Digital Nomad or Life as a Remote Worker
Have you ever thought of chucking the 9-5 routine and finding yourself a nice gig where you could work from anywhere? IT's a dream many of us have, but is it really as nice as it sounds?
This issue will focus on the independent remote worker and digital nomad - those who are not employed as regular employees in an organization and instead sell their skills and services to whoever needs them.
There is a difference as well between a digital nomad and a remote worker. The primary one is whether or not you have a fixed address. A remote worker often works from home instead of from an office while the digital nomad usually has no fixed address and often lives in rural or remote places where the cost of living is cheaper or the life style is more attractive. Each offers different benefits and each has its own problems.
There are lots of opinions and discussions on working remotely. Most of them focus on the positives: freedom to work whenever and wherever your want, the opportunity to live in another country, the ability to travel and have diverse experiences, and for some the freedom from a fixed address, a mortgage, and a higher cost of living.
But there are cons as well. For the remote worker, the most common are a lack of security, a regular paycheck, and the lack of social interactions. For the digital nomad it is the challenge of having no place to call home.
Many remote workers head to a co-working space such as WeWork for the social interaction they offer as well as just to be around other professionals. Some are confident enough in their ability that they don't worry about the regular paycheck and many have health insurance through a spouse or are willing to pay for it themselves. Digital nomads are restricted to a handful of professions - those that can be done completely alone and that have clearly defined outputs. These includes writing, coding, marketing, designing, or where work can be done through the Internet.
The articles here discuss these pros and cons in more depth and offer the perspectives of several digital nomads and remote workers.
The same overarching technology trends driving transformation throughout the business world — most notably cloud computing and the smartphone revolution — are also fueling both the demand and…
Working remotely isn't for everyone. Here are the major pros and cons of remote work to consider when applying for jobs and planning your future.
It's not all about the jetset lifestyle and cocktails on the beach.
Below are two very opposed opinions about being a digital nomad.
Digital nomads live coveted lifestyles: MacBooks on the beach, invoicing from Bali. But perfectly filtered Instagram accounts obscure the privileges that make these digital gurus' lives possible.
I spent six years in a corporate tech career, before launching my content marketing business. So I fit the privileged stereotype he's critiquing. From experience, most digital nomads are aware of…
About This Newsletter
Hand curated articles, videos, podcasts, and other media on the future of work, talent, recruitment, and learning. If you find this useful, please share on Twitter. You can always reach me at kwheeler@futureoftalent.org. I'd enjoy your comments - positive or negative. Send me an email and let me know what you think.