Future of Talent Institute Weekly - Issue #31
---
Recap and Thoughts on HRTech and Automation
HRTech, which ended last week was, as always, a feast of technology and networking. I spent two days combing the floor looking for tools that provide new capability to HR and talent acquisition. There were many established applications which are widely used, but there were also many new or much improved applications. HR tech is growing more sophisticated and the A.I. that is being implemented is finally adding real value. Tools like Seekout, Hiretual, and Zapinfo are automating sourcing. It is now possible to find anyone with a social media profile or an Internet presence. Chatbots are everywhere but only a few have invested enough in natural language processing (NLP) to provide a user with a humanlike experience. AllyO is a favorite with the ability to chat with a potential candidate as well as screen them, automate the scheduling of an interview and follow up with them to determine their satisfaction after they are hired.
Tools to help employees advance their career development and find jobs internally are finally appearing and are good. Gloat caught my eye as a great tool in this space.
Tools to assist in screening and assessing candidates are also more abundant and more powerful. Modern Hire, the newly formed company from the merger of Shaker Consulting and Montage, offers video interviewing , assessment, and predictive analytics in a single package. Both firms were favorites of mine for some time and the merger adds depth and abilities.
Onboarding new hires, a neglected aspect of employee engagement, has become automated in an engaging way with tools like Enboarder, an application developed in Australia but now available everywhere.
It is now possible to automate a huge amount of the recruitment process if a firm has the resources and willingness to do it. Recuiters could be freed up to spend more time engaging candidates, building relationships, pipelines and working with hiring managers to improve their hiring skills.
This diagram pictures where I think automation can be used. I realize this is an ideal model, but not impossible or even improbable. Feedback is welcome.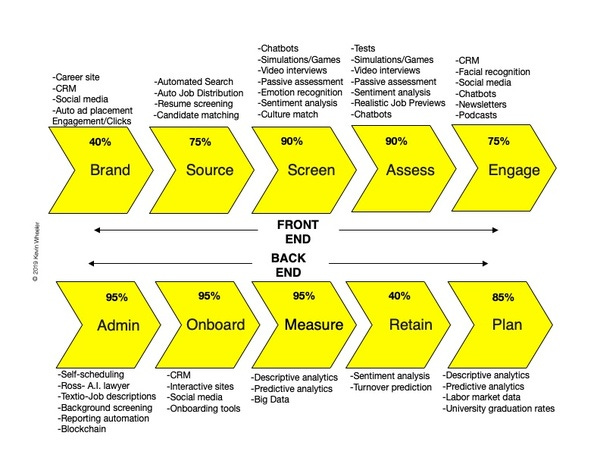 RPA Possible Today
About This Newsletter
Hand curated articles, videos, podcasts, and other media on the future of work, talent, recruitment, and learning. If you find this useful, please share on Twitter. You can always reach me at kwheeler@futureoftalent.org.