Future of Talent Institute Weekly - Issue #8
---
People Analytics is the hottest emerging area for HR and recruiting. By accessing the large amounts of data that are in applicant tracking and HRIS systems a recruiter can be much better at predicting who will be the best hire from a slate of potential ones, what traits help determine retention, how candidates react to various recruiting messages, who will be more creative, and much more.
But Tata Consultancy Services found that just 5% of big-data investments go to HR. Most HR leaders are confused or ill-informed about analytics and what it could do to improve the workforce.
Here are some types of data that could be collected an analyzed. Any of these, if properly measured and tracked, could increase an organization's effectiveness, customer satisfaction and innovation significantly.
---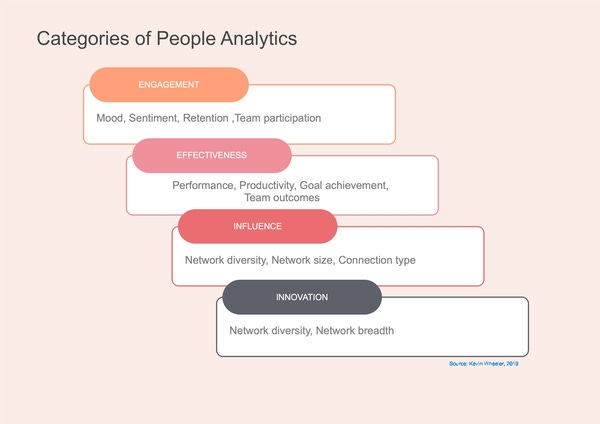 People Analytics
HBR article discussing some of the more powerful network analytics that HR and talent acquisition people could use. One of the most insightful and useful that I have read.
Measure who they know, not just who they are.
Some thoughtful discussion on carefully defining what you are measuring and then using both quantitative as well as qualitative data to measure it.
The article below is the third in a series but this one describes how to go about predicting turnover using analytics.
This step-by-step HR analytics tutorial demonstrates how employee churn analytics can be applied in R to predict which employees are most likely to quit. In this article, we use descriptive analytics to understand the data and patterns, and then use decision trees and random forests algorithms to predict future churn.
Ten minutes on people analytics is a great summary by PwC on why insights on people are so important and what to look for.
Someone to Follow and Get to Know
David is the core figure in bringing people analytics to us in human resource, talent acquisition, and learning. Since leaving IBM he has dedicated himself to leading conferences and educating us on the power and importance of analytics.
About This Newsletter
Hand curated articles, videos, podcasts, and other media on the future of work, talent, recruitment, and learning. If you find this useful, please share on Twitter. You can always reach me at kwheeler@futureoftalent.org.