The Coronavirus World of College Recruiting
---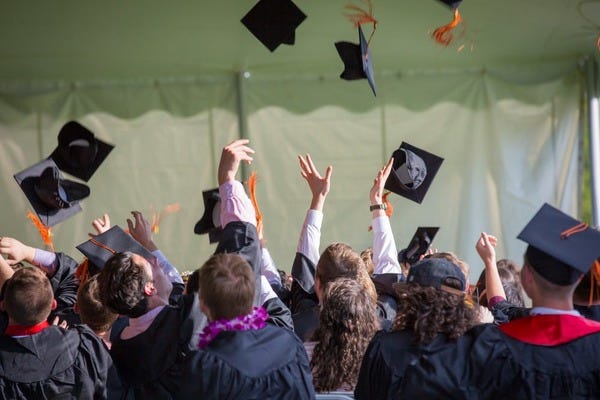 The Coronavirus World of College Recruiting
Now that most every college and university has gone virtual there has never been a better time to also make your college recruiting virtual. In fact, it will be necessary as there are not going to be any students on campus for some time. The closing of campuses was the catalyst needed to bring about changes in recruitment that have been long overdue.
Why Yesterday's Approach is Bad
As anyone who has ever done college recruiting knows, even when visiting a large number of schools and with a huge budget, we can only touch a very small number of potential hires.
Traditional college recruiting is based on a set of assumptions and practices that were developed well before we had any technology and when face-to-face was necessary. But obviously the world has changed and face-to-face might not happen for a long time.
The recruiting experience has primarily been delivered in person, on campus, through information sessions and job fairs. Most organizations designate a handful of schools as key and focus their in-person events at those schools. The schools are chosen because they offer graduates with majors aligned to the needs of the organization and often also because the CEO or a senior executive is a graduate of the school. Most organizations also have a college career site with information and perhaps the opportunity to apply for jobs directly. But the bulk of recruiting is still campus-focused and traditional.
This approach has several obvious downsides,
The first is that the Coronavirus has made this approach impossible for the foreseeable future. And even if a vaccine is discovered, it is unlikely that there will be a return to the traditional ways.
Secondly is Lack of diversity. By focusing on small number of usually elite schools, organization loose diversity, not only of race and gender, but also of ideas and new ways of doing things. Poorer, less advantaged, and minority students are vastly underrepresented in the usual college recruiting efforts.
Many smaller schools and those rarely included in a list of key schools can offer diverse, creative and highly motivated hires. Liberal arts schools are usually overlooked as are technical and vocational schools although they often have outstanding graduates with the skills the hiring organization needs.
The traditional approach also has a very high cost per hire that is often 2-3 times more than the cost to recruit an experienced professional. The cost of travel, often for multiple people and often for a few visits, combined with the costs associated with job fairs or information sessions, meeting room costs, and even perhaps dinners for students can run into tens of thousands of dollars. The typically yield from a key school might be 2-5 hires in a good year and often fewer than 3.
And finally, too much focus on college placement offices is also often a negative. Depending on the school, the placement offices are either vastly underutilized by students or attract a narrow cross-section of available students. At some schools, placement offices act as gatekeepers and discourage any recruitment that is not done with their approval in the belief they are somehow protecting the students.
Some Ideas for a Modern, Virtual and Better Approach
By forgoing the key school game and by embracing technology almost all the downsides of traditional college recruiting can be eliminated. There should be no need to visit any campus and attract larger, more diverse and more motivated group, of potential hires by using the technology available today.
#1. Reach a huge number of students at a wide variety of campuses by developing an active and creative digital branding program using social media, including YouTube and other video-based communication tools. Students are attracted to video more than any other media and also respond to social media targeted at their interests.
#2. Expand your network of potential students by offering virtual internships and ask the interns to introduce you to students who did not get or want an internship.
#3, Develop a college career site with realistic job previews, interviews with recent hires, and a chatbot that encourages questions and engagement.
#4. Develop and hold several virtual job fairs that provide information, video interviews, and online assessment.
#5. Build online screening & assessment into your career site and give students immediate feedback on their results. Use this feedback to point out areas for improvement or weaknesses that could be remedied with a class.
#6. Adopt video Interviewing as your primary and perhaps only way of interviewing students.
#7. Frequently post about your organization, your needs, and your virtual job fairs on Instagram, Whatsapp, Pinterest, WeChat, Twitter, and any other media that students are likely to use.
#8. Offer online mentoring or even tutoring of students. Enlist other employees to act as mentors, coaches, or those who can offer help with various subjects.
#9. Make is easy to apply and offer applicants a quick turn around response.
#10. Hold one event at your organization's site where you invite studetns who have been pre-screened and selected to spend a weekend meeting hiring managers and exploring the projects and activities they might be involved with. Make offers at the end of the weekend.
#11, Offer pre-screened candidates a short video meeting with a hiring managers to discuss projects and get to know one another. Make sure this is NOT an interview.
—————————————————-
Job seekers' expectations are changing. Discover five modern recruiting techniques that HR teams can use to attract top talent to their teams in 2019.
About This Newsletter
Hand curated articles, videos, podcasts, and other media on the future of work, talent, recruitment, and learning. If you find this useful, please share on Twitter. You can always reach me at kwheeler@futureoftalent.org.
Follow me on Twitter @kwheeler. If you like this, you might like to read my other articles and visit www.futureoftalent.org for more ideas and white papers.
Contact me at kwheeler@futureoftalent.org if you'd like to inquire about having me speak at an event or to your team.
To subscribe, send your friends this link: http://newsletters.futureoftalent.org/
If you don't want these updates anymore, please unsubscribe here.